ABOUT
We are a faith based ministry teaching the overcoming power in Christ. Sports, nature, physical challenge and just plain fun create an atmosphere for learning the fullness of what Jesus accomplished for us and how we can appropriate that freedom into our lives.
Carlo Fabbrini, CEO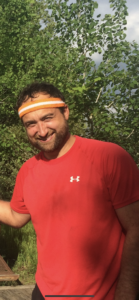 At a young age, Carlo felt the call to share the wonderful news of Jesus. By 8, he was leading his friends to the Lord. One by one, kids were getting saved after hearing about Jesus. As he grew, he desired to be a professional ice hockey player and share the Lord to all. At 20, he played his first pro game. Still feeling something was missing, he left pro hockey after a few years and sought the Lord for answers. For two years he pressed deep into the things of God and had a visitation with the Lord. He said these scriptures to him. Carlo, feed my sheep. I have called you from a small child to demonstrate my righteousness. I will guard and support you, for I have given you to my people as the personal confirmation of my covenant with them.  Isaiah 42:6 tlb This marked the beginning of full time ministry.
Shortly after the call into ministry, Carlo got married to his lovely wife and best friend, Meg. After receiving his pastoral ordination, they began to build a place for people to come and enjoy the presence of the Lord. Their success and motivation are due to a strong desire to reach and positively influence people. Over the last twenty-five years, Carlo has lead hundreds to the Lord and influenced many to have a deeper relationship with Jesus.
Matthew Montgomery, President/Senior Pastor 

Matthew was saved and water baptized at the age of five and his earliest memory of being filled with the Holy Spirit with evidence of speaking in tongues was at the age of eight; whereupon, he immediately felt the call of God. This call for service was strongly experienced again at age 12 and then again at 21. However, despite a strong desire to serve God, the timing was not yet. Upon obtaining his associates degree, Matthew joined the U.S. Air Force at age 23, during which time he obtained his undergraduate and graduate degrees*, and became a federal agent for the U.S. Government. As a highly effective government agent, Matthew specialized in counter-intelligence, counter-terrorism, and force protection. During this time, Matthew traveled and worked in 20+ countries, both before and after 9-11, supporting numerous named and unnamed U.S. military operations. Among other awards and decorations, Matthew received a Bronze Star for a 2010 deployment to Afghanistan. In 2016, Matthew began to again sense the undeniable call of God to ministry and left government service, obtained his pastoral ordination, and has been in full time ministry since January 2017.
*Associate of Arts, Associate of Science in Security Administration, Associate of Science in Criminal Justice, Bachelor Degree in Sociology and Business, Masters in Business.